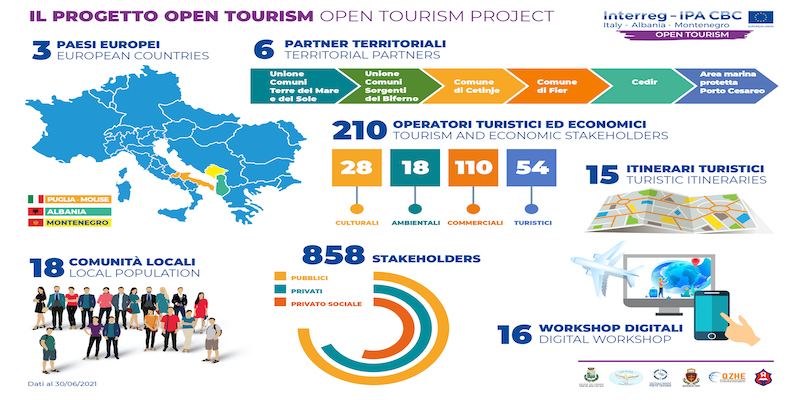 Final event in Apulia, new services for tourism from Italy, Albania and Montenegro
Overview
The first phase of the Open Tourism project, a new way of understanding hospitality, has been completed. A circuit of public, private and social private operators engaged in a new idea of tourism, becoming protagonist actors. This need is also in line with the post-Covid-19 phase, which called for a relaunch of the entire sector. With these assumptions, the Open Tourism project has gathered great support, focusing on travel as an open, sustainable, safe and quality experience and exploiting the potential of territories and resources of which local communities are increasingly aware. In particular, Puglia was the protagonist with the Porto Cesareo Marine Protected Area and the province of Taranto with Avetrana, Fragagnano, Leporano, Pulsano, Maruggio, Lizzano and Torricella.
The results achieved by Open Tourism, promoted by the European Programme INTERREG IPA-CBC ITALY-ALBANIA-MONTENEGRO, will be illustrated during the final online event scheduled for Friday 2 July at 10 a.m. Among others, Alfredo Longo, President of Unione dei Comuni Terre del Mare e del Sole; Antonio Agrosì, Joint Secretariat Interreg IPA CBC Italy-Albania-Montenegro Programme; Miloš Ivaniśević, Acting Director of Old Royal Capital Cetinje and Florian Bilali, Executive Director Center of Economic Development & International Relations will take part in the event.
Specifically, a new tourist information and reception service has been activated, aimed at promoting and enhancing the heritage of Italy, Albania and Montenegro. Focus groups, meetings and workshops at both a local and cross-border level allowed for a sharing of contents. Particularly important was the establishment of the "Board Open Tourism" with the involvement of various stakeholders in the campaign, strategies and tools to be put in place, with reference to seasonal adjustment and digital marketing. More than 200 operators joined the circuit and more than a thousand stakeholders were involved. Finally, a kit was provided containing thematic itineraries - in Italian and English - with which to promote the gastronomy, culture and nature of the area; computer support with videos and photos; flyers and gadgets with the QRcode of the Open Tourism App; a sticker to be applied to the outside of the structures as a sign of recognition. All this also with an online promotion to strengthen the brand. "We are very satisfied: it has been an intense work with which we have created the conditions for the growth of the circuit" comment the promoters.
The event will be broadcast live on the social channels Facebook and Youtube.
It will be possible to use the link
https://us02web.zoom.us/j/88259316559?pwd=MXBwcHh5YUdWQnJwbGtMVkl5bXRJUT09
In addition, experiential tours of the Open Tourism circuit will be organized on Friday afternoon (info 3688038571).