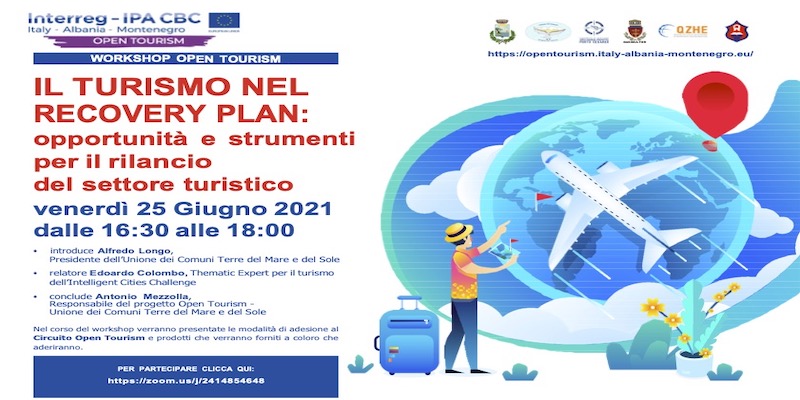 Tourism as a strategic tool in the Recovery Plan
Overview
Today, Friday 25 June, the cycle of online workshops of Open Tourism, a project that in Apulia involves several municipalities of the province of Taranto and the Marine Protected Area of Porto Cesareo, came to a close: "Tourism in the Recovery Plan: opportunities and tools to relaunch the tourism sector". 
The speaker was Edoardo Colombo, a professional expert in innovation and specialized in the digital transformation of tourism for the public administration and businesses, who has been advisor to the task force for the Digital Agenda of the Italian government. 
During the workshop, the procedures for joining the circuit and the products provided to those who will join the project were presented, with a special focus on digital tools, in line with the objectives of the "Open Tourism" project promoted by the European Programme Interreg Ipa-Cbc Italy-Albania-Montenegro which, for the province of Taranto, involves the municipalities of Avetrana, Fragagnano, Leporano, Pulsano, Maruggio, Lizzano and Torricella, ready to bet on an idea of quality tourism, made up of a model of widespread hospitality that sees public and private together. 
The meeting was attended by economic operators, stakeholders, authorities and local associations.